Shutter Guides
See our videos or text directions below 
Two Steps to Measure for Bahama Shutters
Here Adam gives measuring info on capri, mid, or full-length bahama shutter.
How to Install Bahama Shutters
If you have a drill and a level, this is for you. (Okay, maybe you'll need a ladder too.)
How to Measure for Traditional Shutters
Here Adam will show you how to quickly measure for traditional shutters.
Three ways to measure for your home or project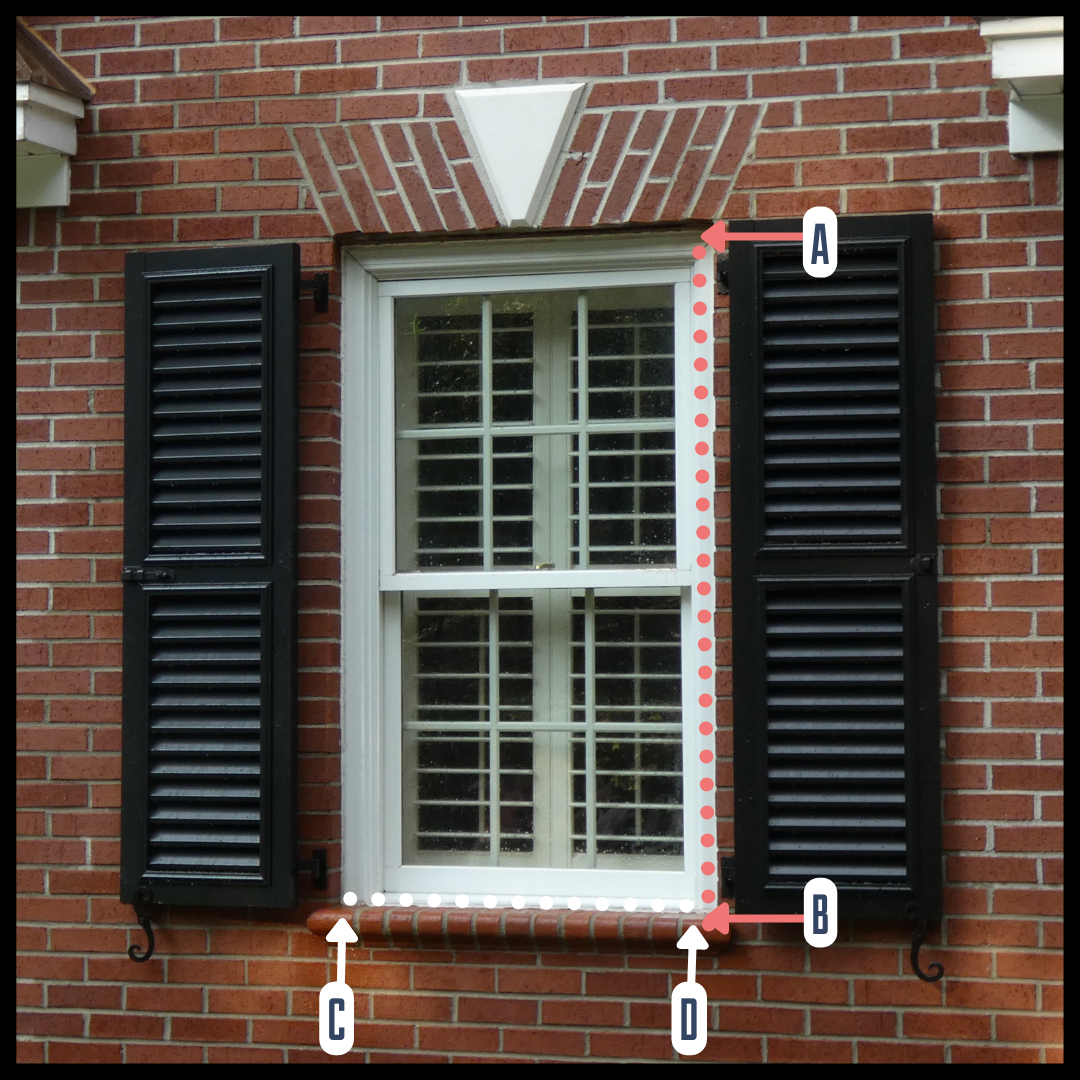 Measuring for Traditional Shutters
Measurements should be taken from the inside of the window casing. This is the area that historically functional shutters would cover.
Add to the aesthetics with Functional Hinges and Shutter Dogs.
Measure A to B. This will be the height of your shutters.
Measure C – D. This is the measurement for a PAIR of shutters. Divide by 2, this is the measurement for each panel.*

If you have a bank of 2 or 3 windows. Measure one of the end windows and use those measurements to determine height and width for a single panel on each side of the bank.**

Functional or Non-functional hinges can be used with this mounting method, but panels will be too big to actually close over the windows. If you want to close the shutters over the windows, use the Historically Accurate Method to measure.
*If you are ordering functional shutters, because there could be variation, measure three locations – once near each side and once in the center – and use the smallest of the three measurements. Do this for both the height and the width. If you are planning to actually close your shutters, we recommend you deduct 1/4" from your smallest measurement to ensure clearance.
**If you have a bank of two windows, and are planning on closing the shutters, you will have to have the panels bi-folded to work. This requires additional hardware.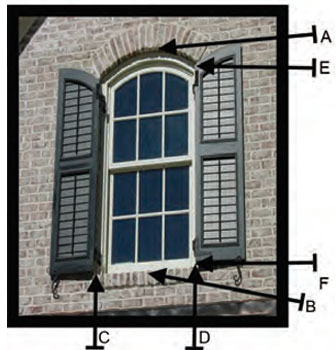 Measuring for Arches
Note the details in the traditional shutter measurements
Measure A to B. This is the overall height of the shutters, the tallest point in the window.
Measure E to F. This is the "breakline" where the arch begins.
Measure C to D. This is overall width of the pair of shutters.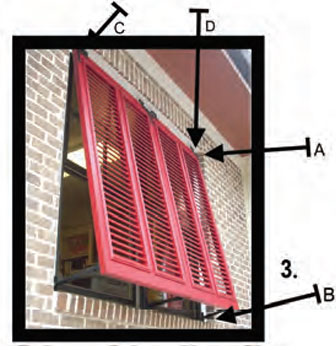 Measuring for Bahama Shutters
Bahama Shutters can be installed in any area where shade or moderate privacy is needed. They can be mounted on windows, porches or gazebos.
Make sure you have a good mounting surface for the top hinges and the bottom stays.
Measure A to B for the overall height.
Measure C to D for the overall width.

Note whether you would like vertical stiles and the number you want. Required on Bahama Shutters over 50" in width.
How to install your new traditional shutters, give these to your contractor or tackle this yourself.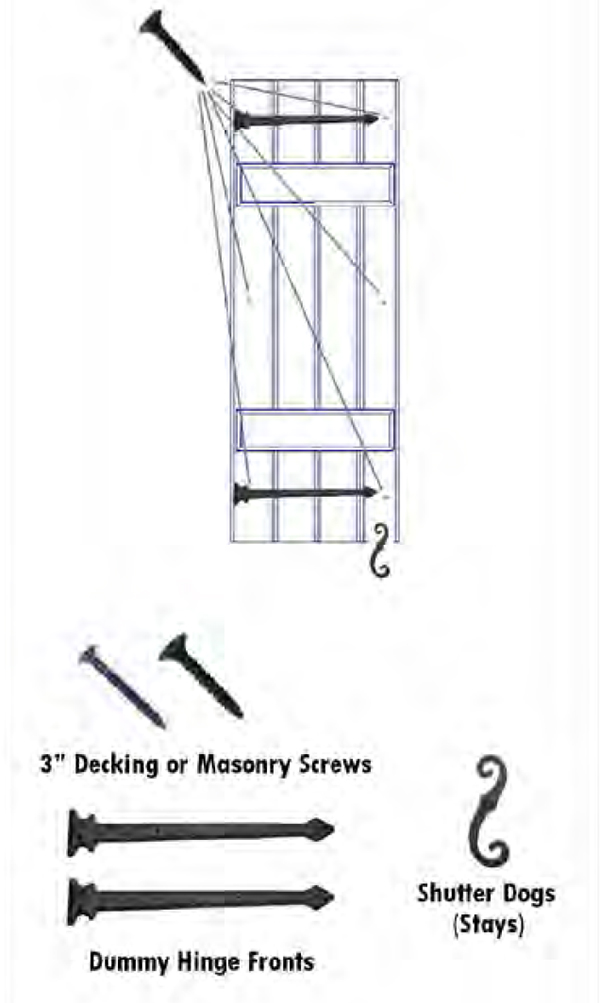 Dummy Mount
Direct Mount as noted in A, then apply "dummy" or "faux" hinge fronts on top.
You may also add shutter dogs for aesthetic value, but these are optional.
Aesthetic or Authentic Method of measuring can be used.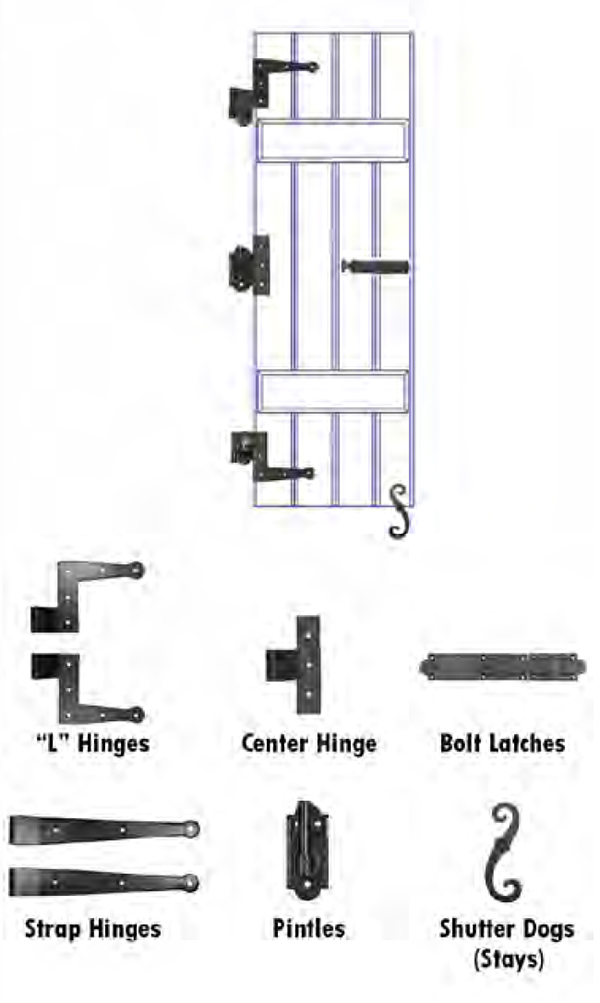 Authentic Mount
Mount with Operable Hinges ("L" or strap), pintles and shutter dogs.
Shutter dogs are required with operable hinges and bolt latches are required if the shutters are to be closed over the windows.
Aesthetic or Authentic Method of measuring can be used, but the Authentic Method must be used in order to closer over windows.
How to Install Traditional Shutters
Even if you have no plans to close a shutter, using traditional hardware with hinges and pintles makes your shutters stand out.  Unlike a direct mount, when you use traditional hardware, you can easily remove your shutters if you ever wanted to paint your house.  Here we show how to mount shutters with rear mount hinges onto your home.