Husband & Wife Team Serving Up Shutters
Growing up in New England, Kristin's always been interested in architecture and a bit fascinated with old houses and why they were built like they were.  As an engineer, Adam's always been interested in taking things apart to see how they work and then putting them back together better than they started. 
They decided they'd try their hand at entrepreneurship by hand crafting doors out of solid wood using age old techniques like mortise and tenon from the comfort of their own garage. (It really wasn't so comfortable). They had the opportunity to expand their business to include shutters and they jumped on it (it helped that it moved them out of their garage). Fast forward to today, they no longer make doors and they now have an amazing team.  They still make shutters by hand and their focus remains on top quality and delightful customer service.
Luxury exterior shutters made with quality craftsmanship tailored to meet your needs.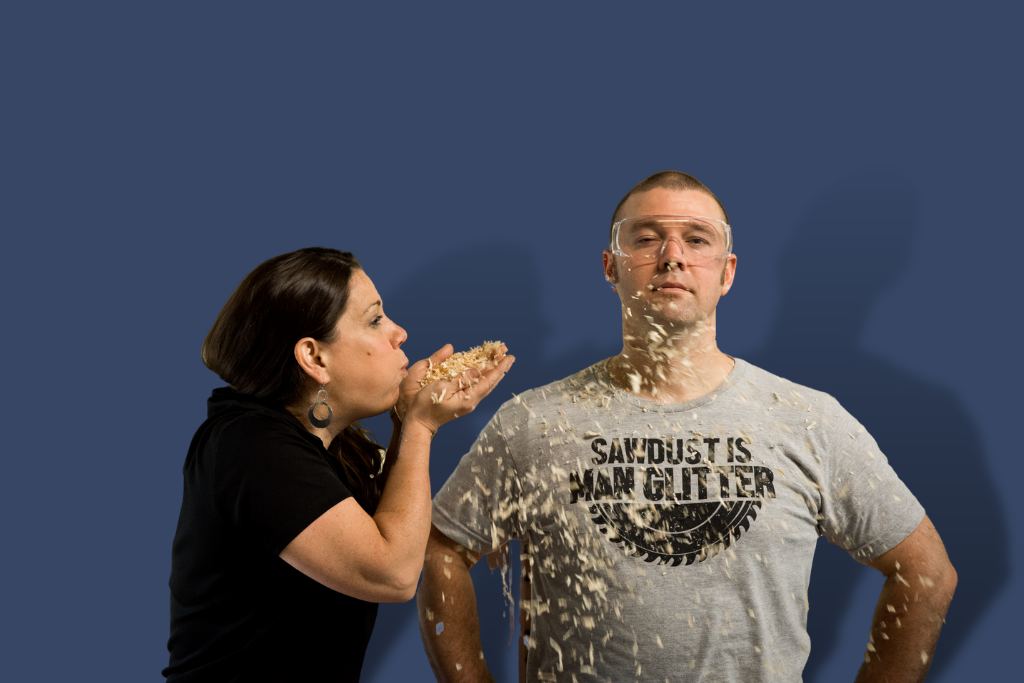 Made in the USA
Our shop is located in The Upstate of South Carolina.  We put each shutter together in house, by hand.
Knowledgeable, Funny Professionals
Not only do we know about shutters, we also know important facts like the fact that, on average, it takes 364 licks to get to the center of a Tootsie Pop.
Top Quality
We work with first-class suppliers to ensure we have premium material. Every shutter is inspected by a member of our team.
Weather-Tested
Ask about our 20 year Chip & Peel  Warranty. Some exclusions apply, but we'll bet our shutters will last long after you move.
Only The Best Quality Materials
With over 25 years of shutter making knowledge, only the highest quality materials are selected for our products. From our single piece polymer infused wood fiber Everwood shutters that will withstand moisture, rot, and bugs to our all aluminum powder coated Endurance line, we strive to provide authentic, durable, and beautiful accents to your home.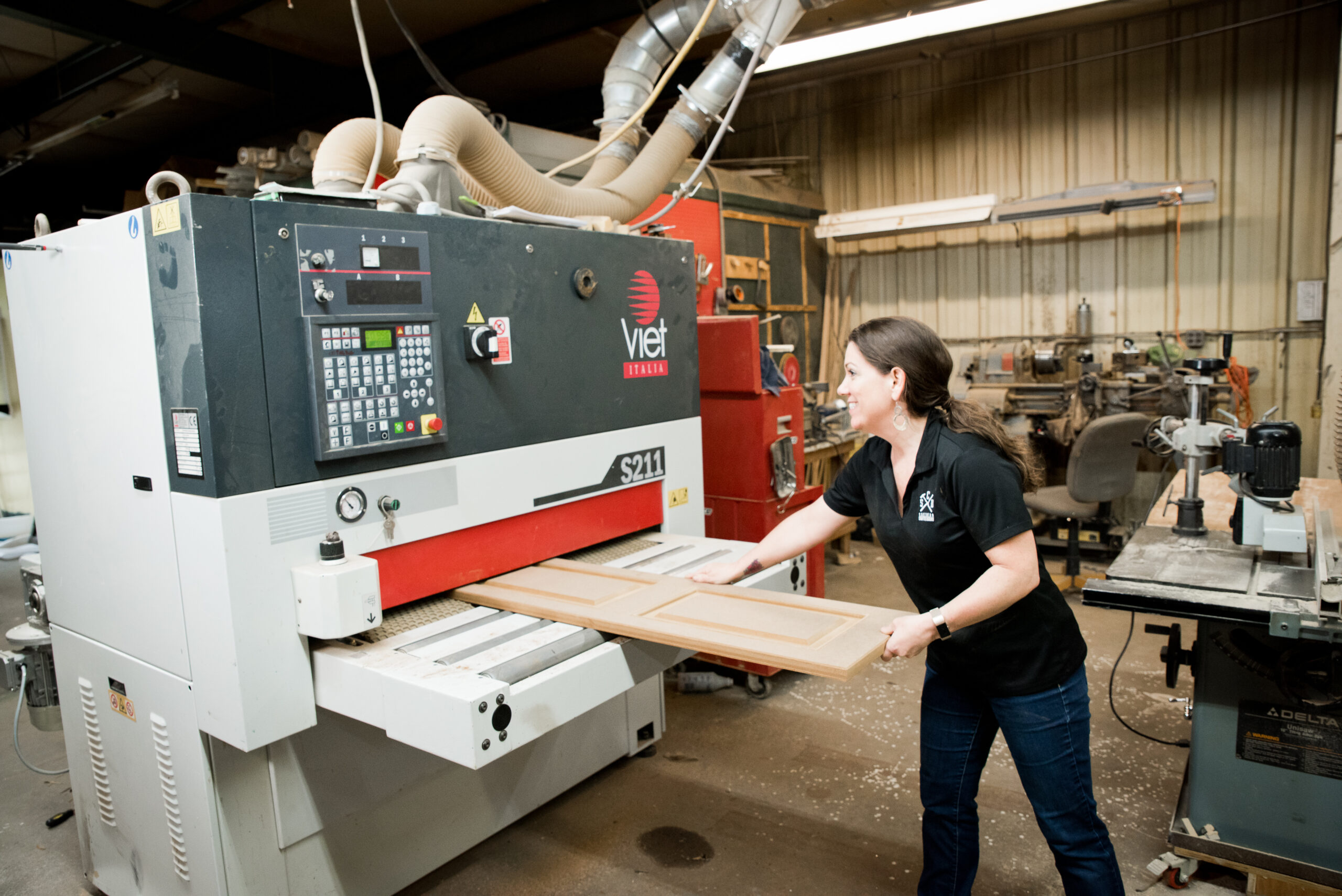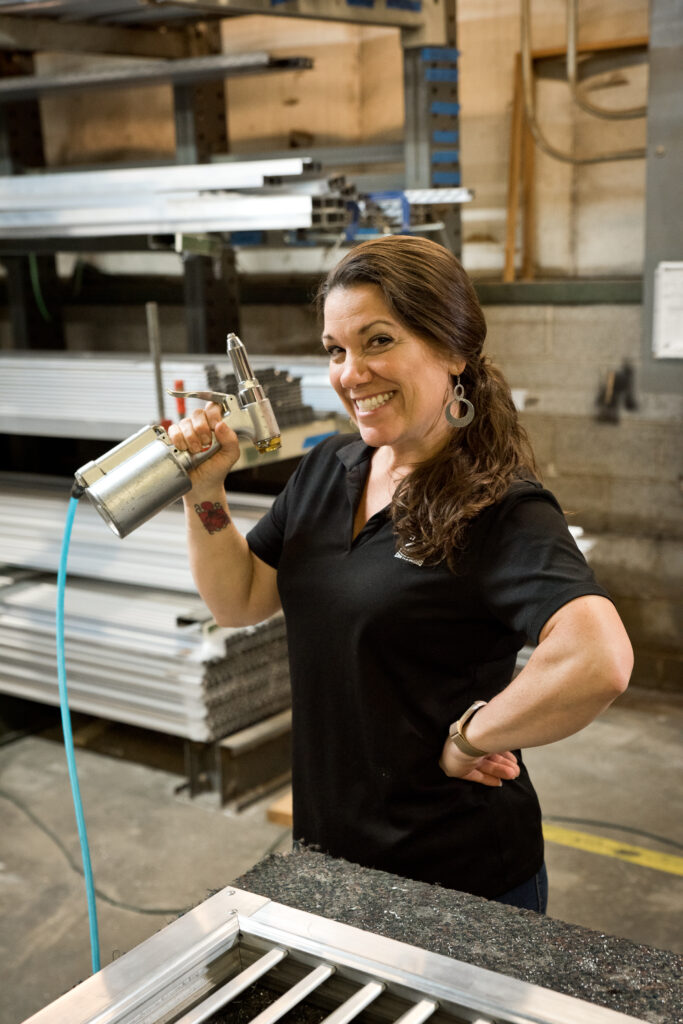 Kristin Meyer, Co-Founder
"I help you love your curb appeal."
Learn about Kristin
If you want to get Kristin talking, ask her about one of her trips out of the country. She loves to travel and has been to Asia, Africa, Canada, Central & South America, Europe and to all but 4 states in the USA. Once upon a time she completed an Ironman triathlon and while she's not trained for distance in quite some time, she still runs and rides on a semi-regular basis. Originally from Massachusetts, she has called South Carolina home for over 15 years. She credits her parents for giving her a strong work ethic and belief in her dreams. Growing up, she was encouraged to work for what she wanted – whether it was shoveling stalls in exchange for riding lessons at a local horse farm or waiting tables to save up for a cruise with friends or babysitting every weekend in order to buy a used car, she learned from an early age that if she wanted something bad enough, she'd have to work her tail off to get it. She hopes to inspire her team to pursue their dreams and looks forward to growing SCS in such a way that she is able to give back to the community around her.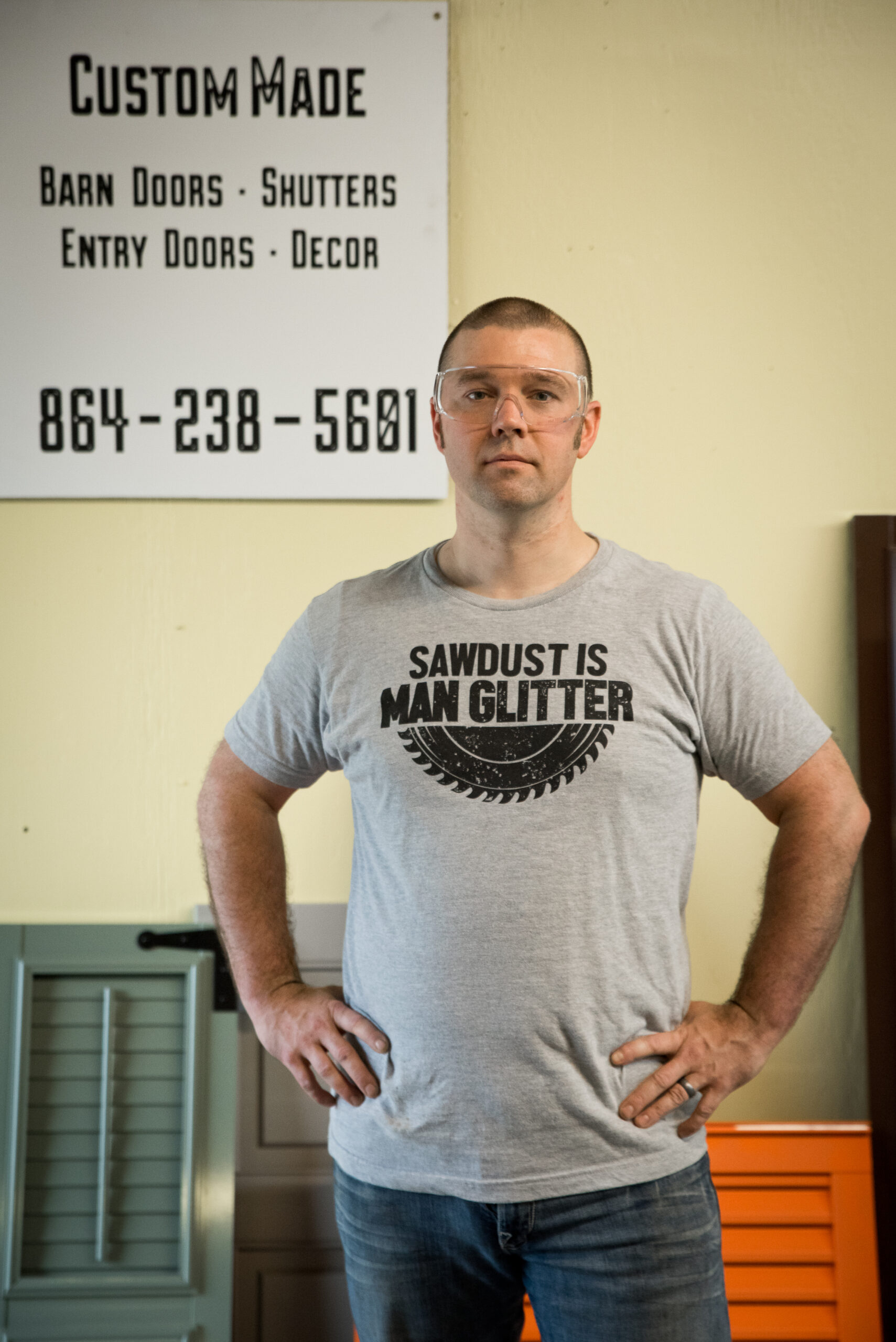 Adam Jankowski, Co-Founder
"I bring your shutter design to life"
Learn about Adam
Some people say Adam is the inspiration behind McGyver because he's so good at figuring out how to make something work. He's been tinkering and causing mayhem since he was young when he took apart his mother's sewing machine, just to see how it worked, and when he created a "scuba tank" from materials around the house and put it to the test in the creek behind his house. Today, when he has some free time, he likes to refurbish batteries, tinker on his car, truck or tractor, and is forever trying to figure out the secret to the perfect lawn. Someday in the future, he'd like to get an RV and travel across the country. For now, he enjoys exploring new roads on his road bike to find potential bike routes that have pretty scenery and are tame enough that Kristin won't be afraid to join in the fun.
Amanda Hughes, The Customer Service Guru
"I help you envision your shutters."
Learn about Amanda
Amanda is new to the shop and is enjoying learning all the ins and outs about shutters. She brings a great passion for customer service to the team.
In her free time she is kept busy with her house of "Men", husband, 3 boys and Great Dane. She enjoys being outside, hiking, going to yard sales and photography.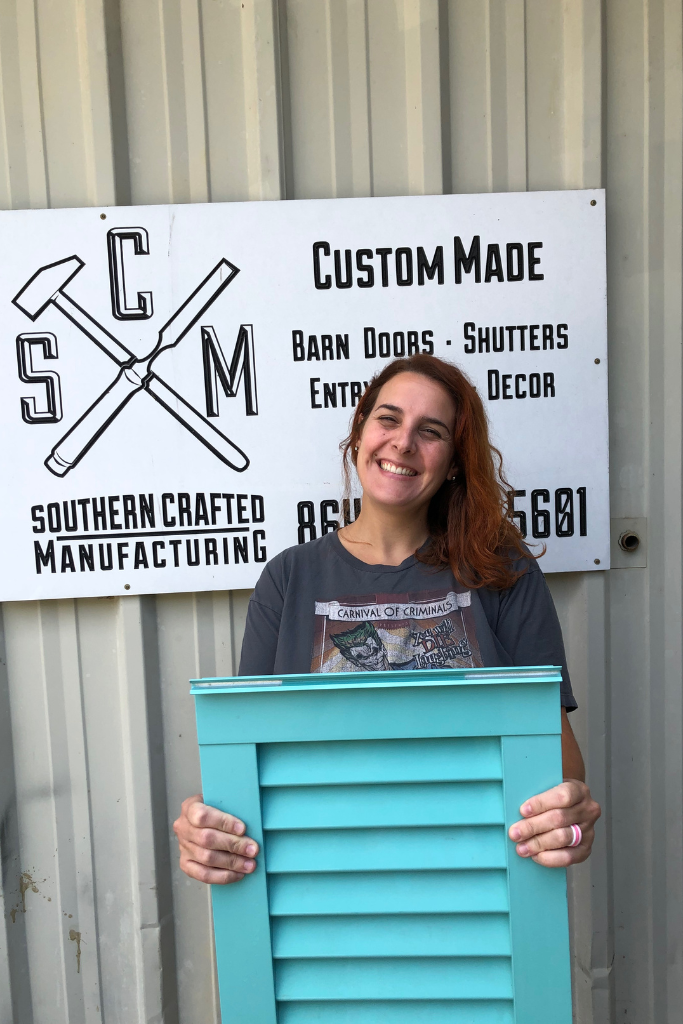 Mary Osorio, The All-Arounder
"I keep you updated on our latest projects."
Learn about Mary
Mary enjoys helping in all areas around the shop, whether it be on the manufacturing floor or in the back office. She is always eager to learn new things, and quick to ask questions … like a lot of questions.  She is looking forward to being trained in all areas of the shop! When she is not at work, she is taking care of her family, mostly trying to keep up with her two young boys! In her spare time, she enjoys crafting, jogging, and binge watching her favorite shows.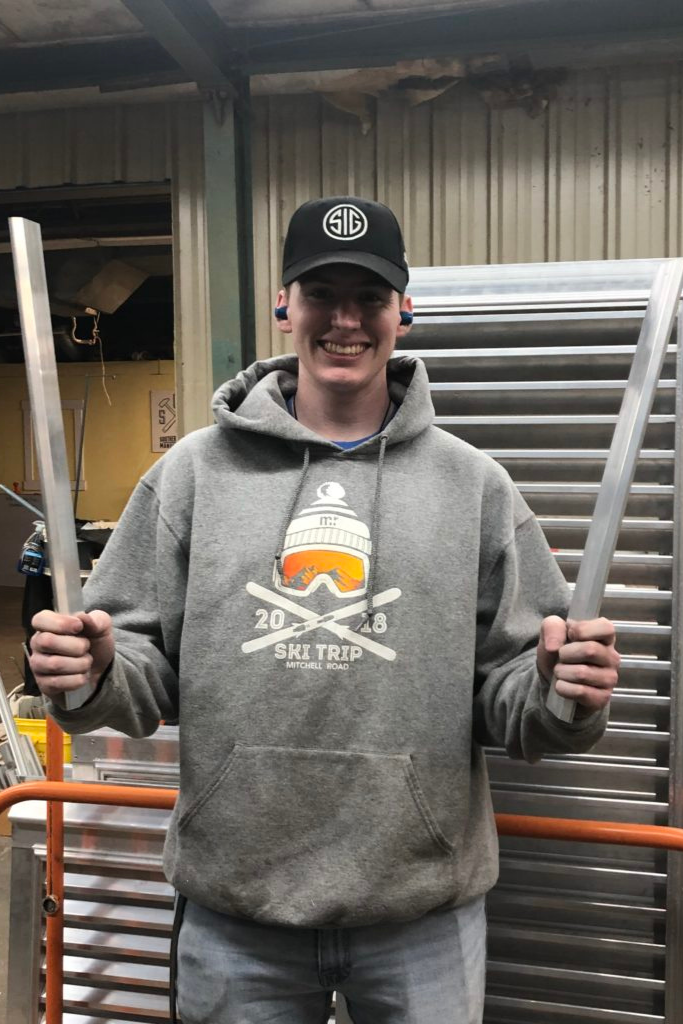 John Burdette, The Muscle
"I check your shutters for top quality."
Learn about John
John is heads and shoulders above the rest…. literally, here at the shop. Not only is he tall enough to reach a lot of things, he's also strong enough to carry stuff, too. He's currently working towards a Bachelors Degree in advanced manufacturing and can't wait until the day he can sit back in the corner office eating bon bons and waiting for people to come to him with their challenges. Don't tell him that day is NOT anytime soon, because he's living the dream right now!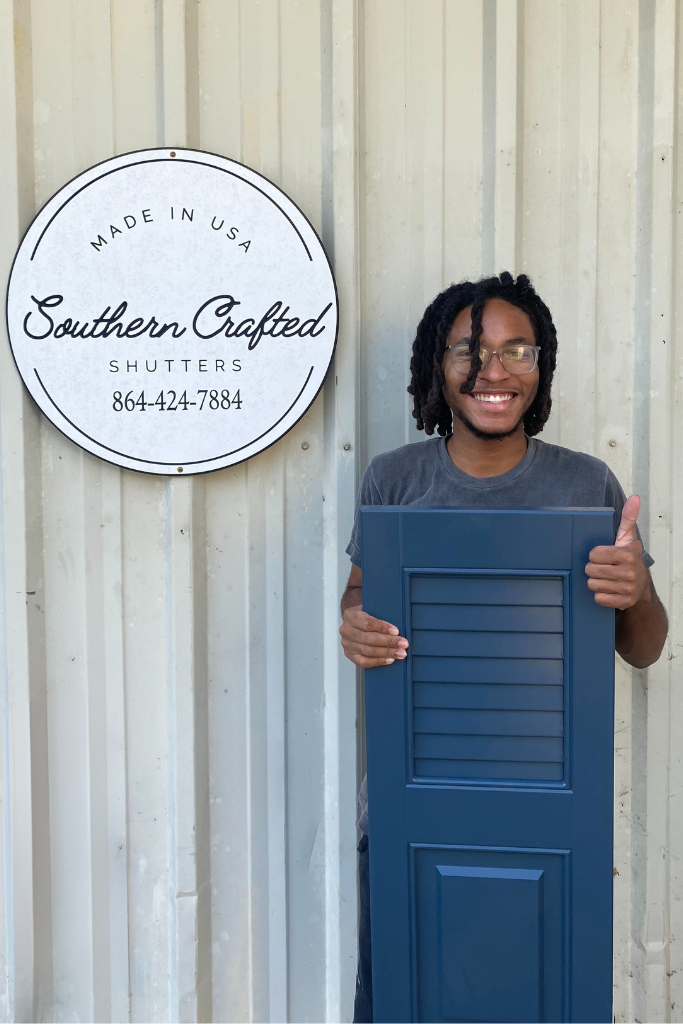 Zionn Belton, The Painter
" I paint your shutters with the best attention to detail. "
Learn about Zionn
Zionn started off as an apprentice through a work based learning program at Gold Strip Career Center in 2021. Since then he has graduated from high school and has started his first year of college at Greenville Tech, majoring in Archeticture. In his free time, he enjoys driving around thee city to find new food places to try, hanging out with friends, spending time with his girlfriend or practicing guitar.
Ben Stoughtenger, The Apprentice
"I ship your shutters with the upmost care."
Learn about Ben
Ben is a Worked Based Learning Student, who is a skilled craftsman and a hardworking individual that values personal growth and progress. He takes inspiration from his father, who instilled in him a strong work ethic and a drive to succeed. Ben's achievements include developing his furniture-making skills and creating beautiful pieces for him home. He is constantly improving his home with his passion for DIY projects and has successfully transformed many of his living spaces by applying his design skills and attention to detail. Ben's dedication to pursuing betterment  both personally and professionally has earned him many successes.
Bryson Lewis, The Newest Apprentice
"I assemble your shutters with top quality."
Learn about Bryson
Bryson comes to us from the work based learning program at the Career Center and has a passion for building. 
In his free time Bryson enjoys sports, video games and spending time with his dog, Decoy. He is currently competing in the states Skills USA Competition for Teamworks.
Hand Crafted Shutters:
Made to Order.
Made to Last.